Regular price
$22.07 USD
Sale price
$15.37 USD
Unit price
per
Sale
Sold out
FREE SHIPPING AUSTRALIA WIDE
If hiring - Quantity selector is on the calendar

Description

Our gorgeous hand dyed cheesecloth gauze wedding table runners have a unique texture and come in six rustic boho colours. This is a tight weave cotton fabric. These gauze runners are a reception room staple, the gauze cotton range of table threads is both an elegant and rustic must-have.

Available in a stunning array of colours and with subtle detailing along the edges, you will soon find you need these gauze table runners in every colour for every occasion, especially for wedding table settings. These gauze runners are soft, lightweight and will add a beautiful, airy texture to any table.

Weddings and other events can be expensive, so we try to price our items reasonably. These beautiful table runners have good resale value because of their quality, or you can just collect them in several styles so you can have one for every event. If you are looking for a package that includes placemats, cutlery, napkins, and runners, please contact us for a quote. Happy Planning!
Materials & Dimensions

*Natural soft cheesecloth gauze fabric

Available dimensions:

*90 x 400cm
Pick Up & FREE SHIPPING

FREE SHIPPING

Gold Coast Local Pick up

Order ready in 24 hours
Please click pick up option at checkout and details will follow

International Australia Post Shipping Costs:

Shipped within 48 hours
International Standard: $19.99

Returns:

Returns on purchases and full refunds accepted within 30 days of receiving the items and notifying us
09 Dec.
Estimated arrival
07-08 Dec.
Order dispatches
For Hire Customers- Receiving your Parcel

Reserve now, pay later! For hire customers, we only expect the hire to be paid now and the refundable security deposit paid 45 days prior to your event. This means your checkout today will only include the hire, and a second invoice will be issued for the security deposit closer to the event date. Simply put, hire customers will be billed twice: first for the hire and later for the refundable security deposit.
Orders over $100 require a $99 refundable security deposit
Orders under $100 require a $59 refundable security deposit
Select Hire Date (This will automatically give you more than just a two day hire)
Quantity selector is also on the calendar***
We hire for 7 days from your event date to give you time to return as we know what its like after weddings or events
For interstate hires- we ship 2.5 weeks before your event so you recieve the items well in advance. After your event you have 7 days to send us through the tracking number.
The 100% refundable deposit is refunded to you within 72 hours of our warehouse receiving the package.
Please read more about our Refundable Deposit Policy here
Please read other info
For Hire Customers- Returning your parcel

Return label:

We will put in a return label for you so it's easy and this will be $19.99 for linen or $24.99 if cutlery is included and will be included in your final invoice.
You can use the same satchel or box you receive the items in and stick the return label on the old label.

Cleaning our items

For under 50 linen items you can clean these yourself on a cold delicates cycle with some fabric softener and hang out to dry. *No Dryer
For over 50 items we can dry clean these for you for $39.99
We will contact you to see which option works better for you and this will be included in your final invoice if you
Care Instructions

*Cold gentle machine or hand wash

*Hang out to dry for a natural wrinkly texture

*No ironing required
Custom & Wholesale

We can do additional wholesale pricing on orders of 110+ napkins and or 10+ table runners.

We can also accomodate custom sizing if needed.
View full details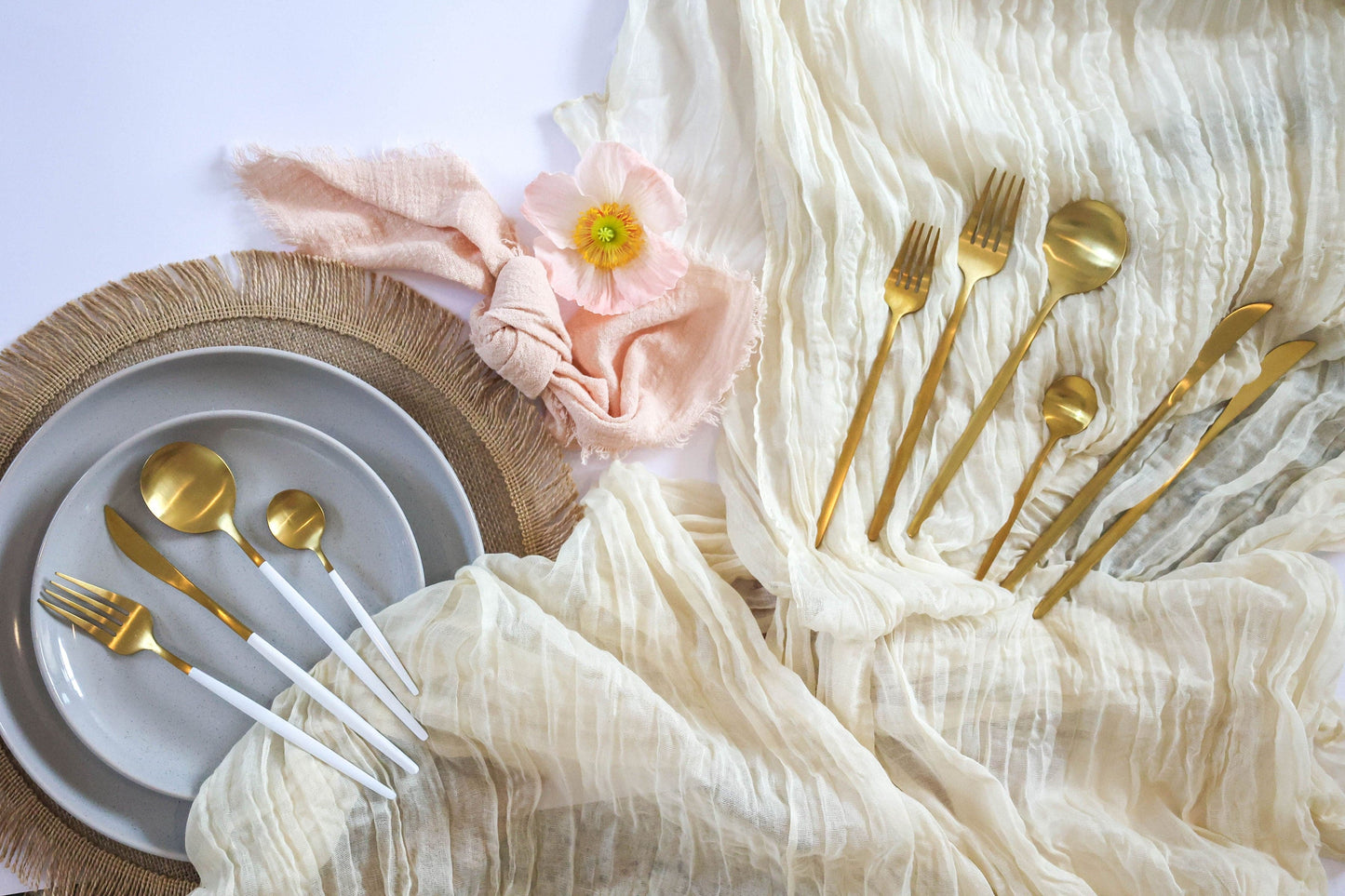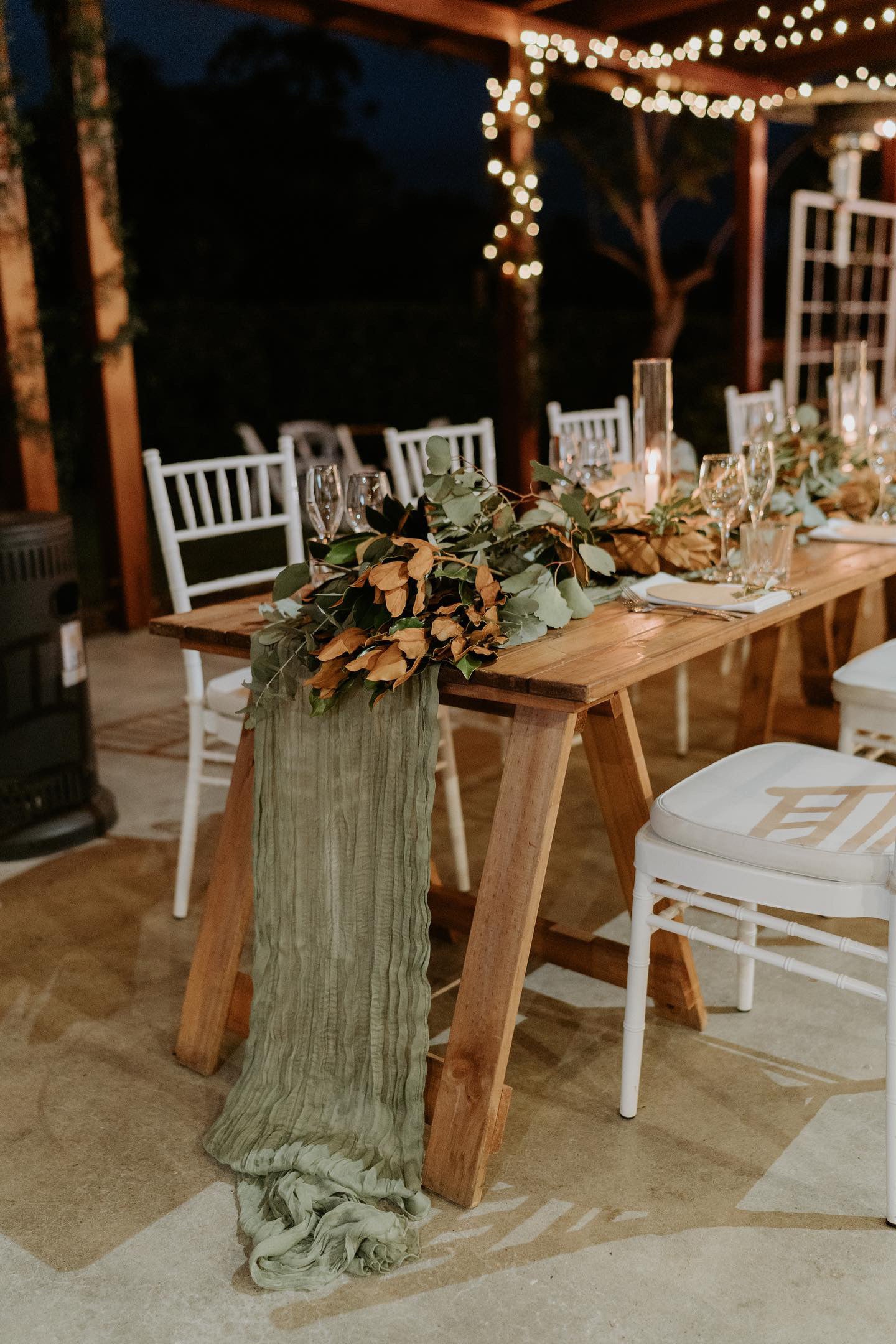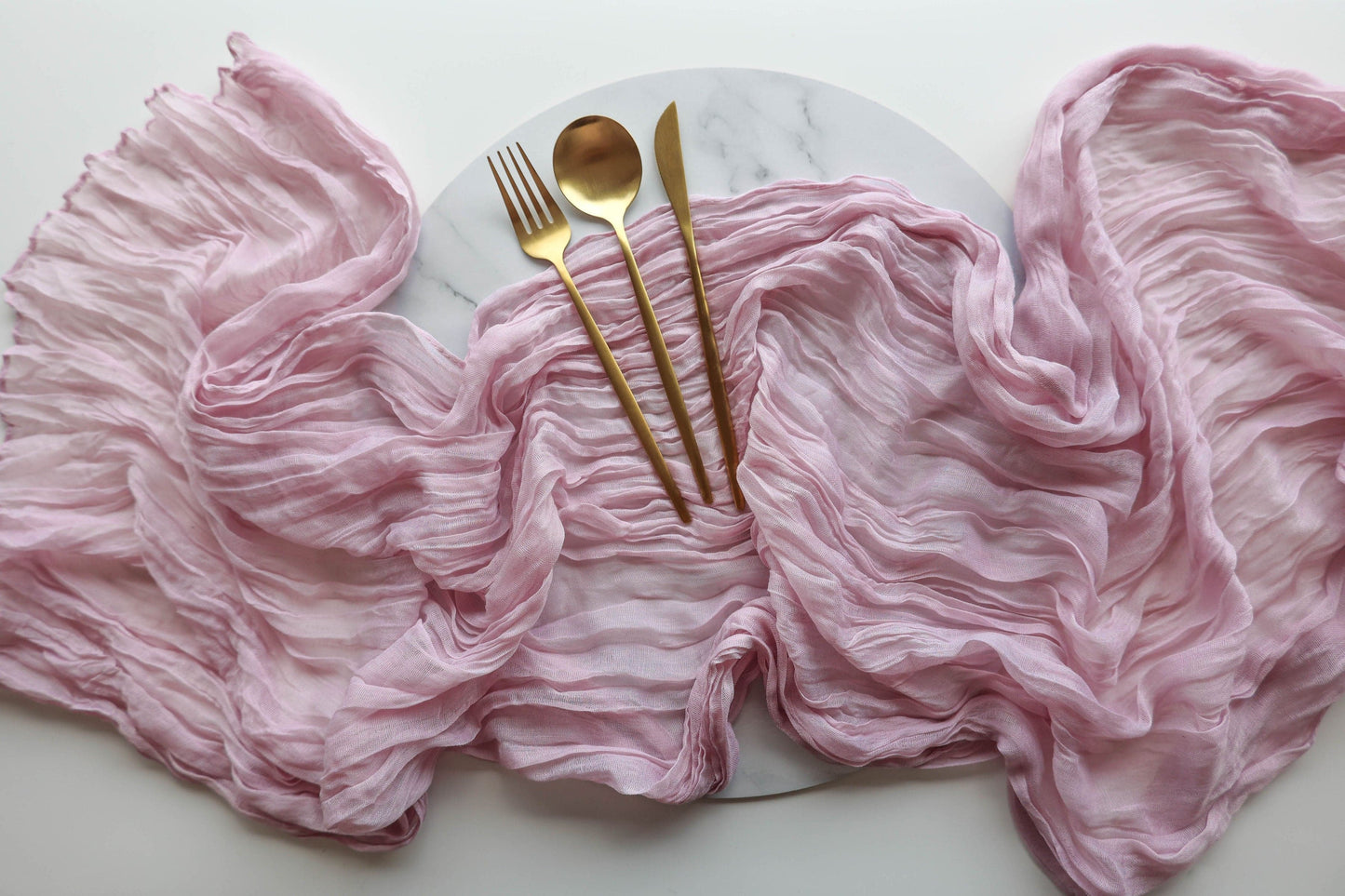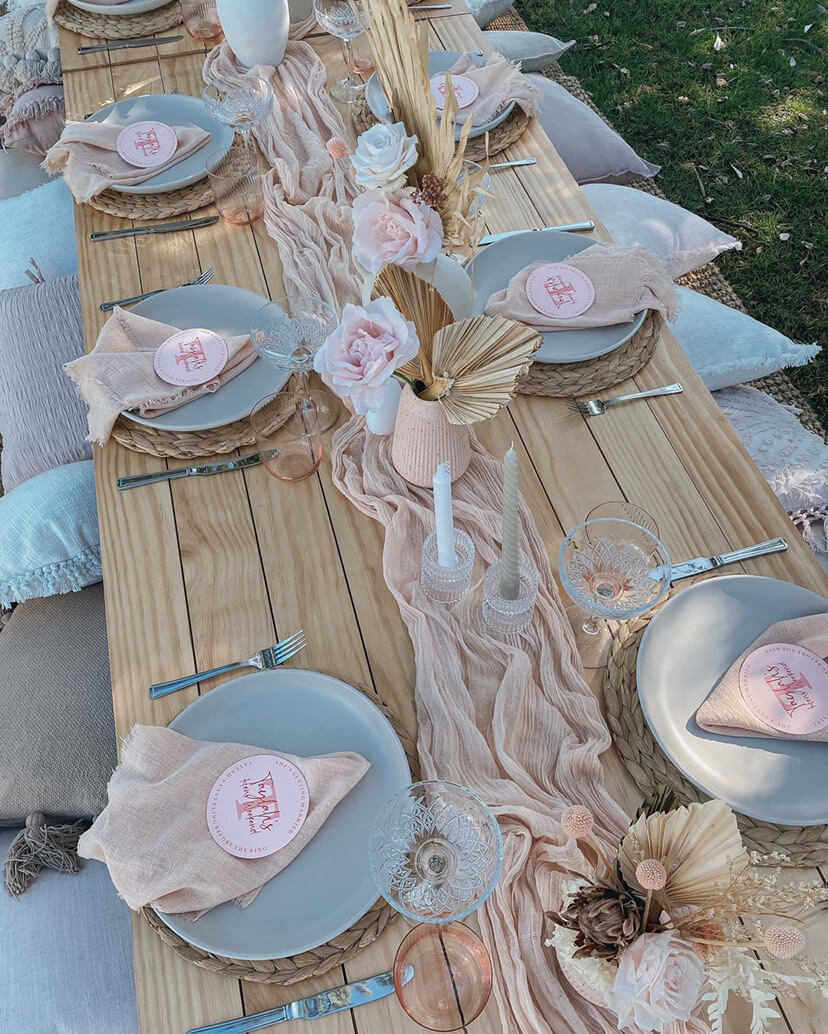 Embrace Rustic Sophistication with Gauze Table Runners and Drapery
At Organic Event Supply Co., we take pride in offering gauze table runners that exemplify rustic elegance, perfect for transforming your wedding tables. But why stop there? Our versatile runners also double as enchanting wedding curtain backdrops, adding a whimsical touch to your venue. When you opt for our table runners for hire, you unlock a world of stylish possibilities.

Why Choose Our Wedding Drapes Hire and Table Runners?

Trendsetting Designs: Our selection is always evolving, featuring the latest rustic trends to ensure your celebration is as current as it is charming.

Cost-Effective Elegance: Hiring from us means enjoying the luxury of high-end decor without the price tag of ownership or the hassle of post-event storage.

Diverse Range: With a spectrum of shades available, our table runners and wedding drapes for hire can perfectly match your rustic theme, enhancing everything from tablescapes to room decor.

Multi-Functional Beauty: The beauty of our gauze runners extends beyond tables. Imagine them as graceful wedding curtain backdrops or as part of your package, softly partitioning spaces or framing your vows with an air of romance.

With Organic Event Supply Co., the flexibility of our decor items, like the rustic gauze table runners, is unmatched. They can serve multiple purposes, elegantly draping as part of your event selections, creating a picturesque ceremony space or reception feature. Embrace the ease and elegance of our decor solutions and let your imagination roam free to create settings that your guests will remember long after your special day.