Regular price
$16.72 USD
Sale price
$12.03 USD
Unit price
per
Sale
Sold out
FREE SHIPPING AUSTRALIA WIDE
If hiring - Quantity selector is on the calendar

Description

Bring a touch of classic style and sophistication to your table design with our gold wedding cutlery sets for hire and buy! Crafted from premium quality stainless steel, these gold knife and fork sets look radiant on any dining table and offers long lasting durability.

We know that every wedding is unique, and we are proud fo offer a range of wedding cutlery sets to suit every theme. Whether you are looking for a timeless and classic look, or something a little more modern and glamorous, our selections are sure to impress. Made from premium materials, our cutlery is designed to withstand the rigours of any wedding reception.

If anyone understands that weddings and events aren't cheap it's us! So, we have your back and try to price our cutlery for hire items as reasonably as we can. These gold cutlery for hire are so easy to resell once your event or wedding is over. If you're looking for the whole wedding table decor package - placemats, cutlery, napkins, and runners please get in touch and we con give you a specialised quote. Happy Planning!
Materials & Dimensions

Made of quality stainless steel for lasting durability and timeless appeal

Dimensions:

Entree knife: 18.5cm
Entree fork : 19cm
Fork: 20 cm
Knife: 23 cm
SpoonL 20.5cm
Dessert Spoon: 14 cm
Pick Up & FREE SHIPPING

FREE SHIPPING

Gold Coast Local Pick up

Order ready in 24 hours
Please click pick up option at checkout and details will follow

International Australia Post Shipping Costs:

Shipped within 48 hours
International Standard: $19.99

Returns:

Returns on purchases and full refunds accepted within 30 days of receiving the items and notifying us
09 Dec.
Estimated arrival
07-08 Dec.
Order dispatches
For Hire Customers- Receiving your Parcel

Reserve now, pay later! For hire customers, we only expect the hire to be paid now and the refundable security deposit paid 45 days prior to your event. This means your checkout today will only include the hire, and a second invoice will be issued for the security deposit closer to the event date. Simply put, hire customers will be billed twice: first for the hire and later for the refundable security deposit.
Orders over $100 require a $99 refundable security deposit
Orders under $100 require a $59 refundable security deposit
Select Hire Date (This will automatically give you more than just a two day hire)
Quantity selector is also on the calendar***
We hire for 7 days from your event date to give you time to return as we know what its like after weddings or events
For interstate hires- we ship 2.5 weeks before your event so you recieve the items well in advance. After your event you have 7 days to send us through the tracking number.
The 100% refundable deposit is refunded to you within 72 hours of our warehouse receiving the package.
Please read more about our Refundable Deposit Policy here
Please read other info
For Hire Customers- Returning your parcel

Return label:

We will put in a return label for you so it's easy and this will be $24.99 and will be included in your final invoice.
You can use the same satchel or box you receive the items in and stick the return label on the old label.

Cleaning our items

For cutlery welcome to hand wash or put into the dishwasher.
Please ensure all are wiped dry
Custom & Wholesale

We can do additional wholesale pricing on orders of 40+ cutlery sets.
View full details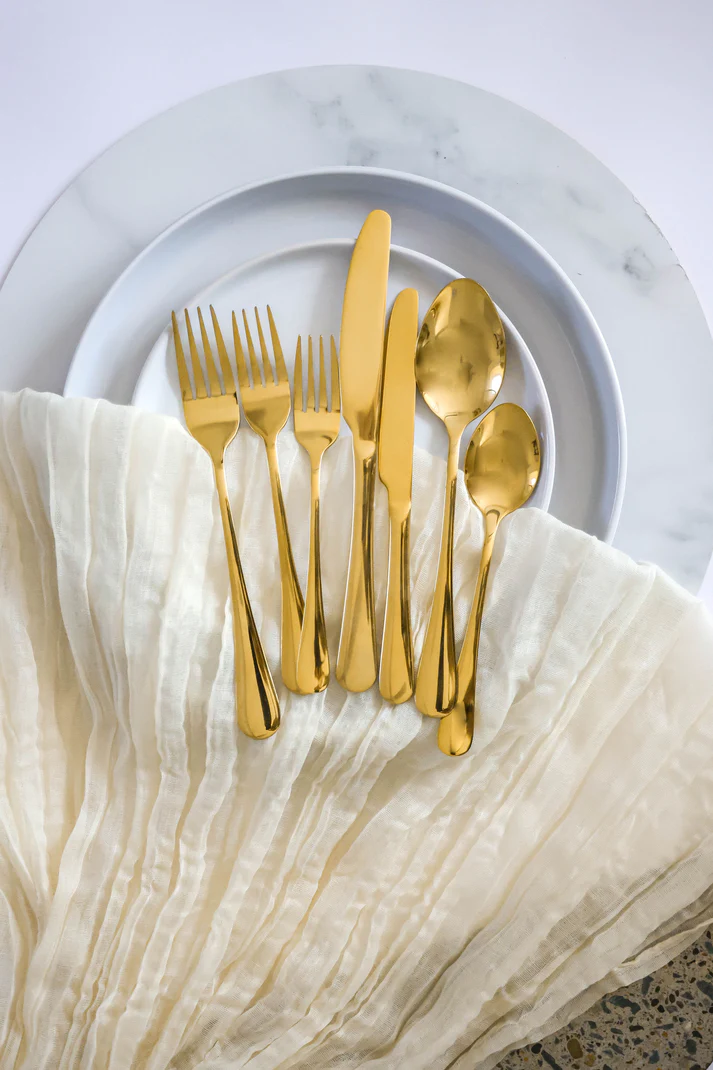 Transform Your Reception Dining Experience with Gold Cutlery for Hire
Make a lasting impression on your wedding day with our exquisite gold cutlery for hire at Organic Events Supply Co. Experience the convenience of wedding cutlery rentals, ensuring a seamless and stress-free experience for your big day. 
Here's what you can expect when you hire our wedding cutlery:
Convenience and Quality: Experience a hassle-free experience with wedding cutlery for hire. We handle the logistics, eliminating the sourcing and storing hassles. Our well-maintained and polished gold cutlery ensures a flawless appearance for your wedding reception.
Luxury without the Expense: Indulge in the opulence of gold cutlery without the significant expense of buying a large quantity. Our rental service offers access to gold cutlery made from premium stainless steel, allowing you to create a lavish tablescape that impresses your guests.
Flexibility and Adaptability: Tailor your cutlery selection to your guest count and design preferences. Renting gold cutlery provides the flexibility to easily match your table decor and adapt to changing themes without the burden of long-term ownership.
Experience the convenience, quality, and luxury of our gold cutlery for hire. Let Organic Events Supply Co. handle the logistics, allowing you to enjoy a stress-free and extraordinary wedding reception. Create an enchanting atmosphere and make your special day truly extraordinary.